When it comes to travel-oriented special events, sometimes a standard limousine is not enough to accommodate all of the participants. This is one reason why party buses are gaining popularity as go-to rental vehicles. The following information will help people who have thought about renting a party bus learn what to look for and what to ask for before they make a final decision.
Quality vs. Quantity
Party buses, also referred to as "limo buses," come in various sizes and rental fees can exceed one thousand dollars. As such, it can be very easy for a budget-conscious person to be enticed by what appears to be a good deal on a party bus that will accommodate the size of his or her party and not realize that the company he or she is considering is not in compliance with city or state regulations. For example, the party bus rental business may be employing drivers who are not properly trained or using buses that are in need of repair.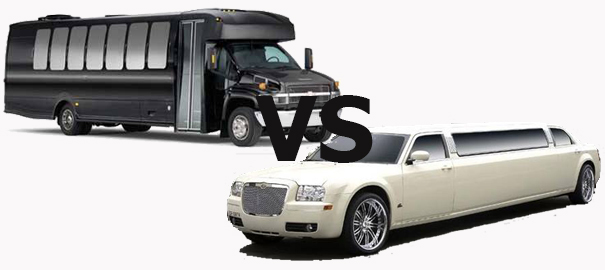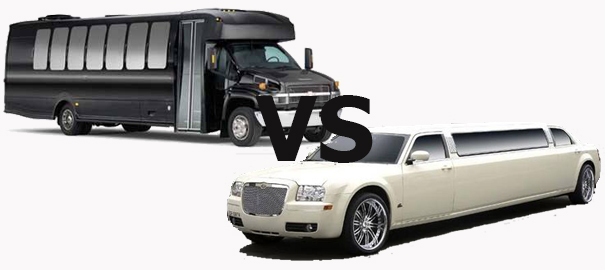 This is why it is imperative that prospective customers ask party bus rental representatives for proof of inspections, insurance and qualified drivers. Companies that fail to produce this information should be avoided. An example of a party bus rental company that values quantity over quality would be one that tries to accommodate more than 30 people on a party bus that was designed to seat no more than 30 people. In an attempt to "gloss over" the facts, the company may offer customers discounts and other extras.
While representatives of reputable party bus companies will let patrons know exactly how many passengers can be comfortably seated on a specific party bus, prospective customers should still take it upon themselves to inspect the seats prior to renting the bus to ensure that there is enough room to accommodate older adults and overweight or otherwise disabled individuals who will be in attendance.
Details
Once a person has selected a party bus rental company, he or she needs to obtain written verification of the services to be rendered by the business. For example, the booking should confirm the type of bus that is to be rented, the exact cost of the rental and any other applicable fees such as gratuities and a cancellation fee. A schedule that outlines exactly when and where the patron's party will be picked up and dropped off should also be included.
Amenities
Customers need to discuss amenities with party bus rental company personnel and inspect the items before any financial transactions take place. For example, televisions and sound systems, if available, should produce crisp images and clear audio. Special effects lighting and other equipment should work properly as well.
Some party bus rental companies provide food, drink and music in addition to transportation while others may not. Prospective clients need to ask if these services are part of the rental agreement. If not, they may need to find another party bus rental company.
By taking the aforementioned precautions, prospective party bus rental customers will be
able to avoid unnecessary expenses and other circumstances that would prevent them from enjoying their special event.
When you want to enjoy an amazing party out with your friends, but don't want to have to find a way to provide transportation for everyone, look no further than a party bus. A party bus combines the exciting dance floors, bars and HD TVs that you can find at most clubs and bars with an intimate and relaxing atmosphere for just you and your friends. A party bus is a decked out limo that can usually hold up to 40 passengers, making it the perfect destination to party. Here's 3 great reasons for you and your friends to get on board a party bus.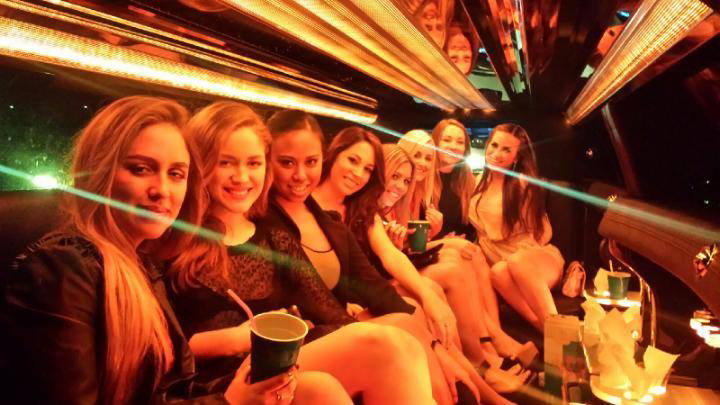 Prime Spot to Hang Out With Your Friends
There's no better place to spend time and party with your friends than on a party bus. Clubs and bars can be overcrowded at the best of times, making it difficult to just have fun with the people closest to you. But with a party bus, you will find that you can fit yourself and up to 39 other passengers in a bus that is more than big enough to hold everyone. You've never traveled in better style than a party bus and all of this can be enjoyed by your group of friends, no matter the type of party you have in mind. Wherever you want to go, a party bus will make the travel just as fun and exciting as the destination.
Includes All of the Amenities and Services You Could Ever Want
When you're traveling in a party bus, we want you to feel as though there's nothing in the world more amazing than what's going on inside the party bus with you and your friends. The amount of amenities and services available to you is even more than you could receive when flying in first class. For instance, here are a few of the best amenities:
Club-like lighting systems that electrify the party
Unbelievable sound systems that will have you and your friends dancing to the latest and greatest musical artists in style
High-def plasma TVs for you and your friends to watch the big game
Includes both alcoholic and nonalcoholic beverages, as well as tasty snacks and delicious foods
You can also expect us to deliver a myriad of enticing services to make sure your experience is top notch, such as:
VIP entry to most local clubs that you want to swing by
Driving to any destination that you want
Designing the bus decor to match the type of party that you want to throw, from birthday parties to bachelor parties and everything in between
Can Travel Anywhere You Want Without Need of Designated Driver
One of the worst aspects of going out to party is that you need a designated driver to take you everywhere, which means that they can't join in the fun. However, with a party bus, we are the designated drivers and all of your friends can simply enjoy partying together. We will take you anywhere you want to go, whether that involves hopping between some of the city's hottest clubs or attending the local football game. Whatever you want, we are here to deliver.
The location of a party changes the experience and enjoyment. If you want to color the celebration with new life, then you can look at the trend of party buses. The concept of using a party bus is growing in popularity, specifically because of the hot choices in entertainment and the approach used for a new type of party. Knowing exactly how to plan your next party for a ride allows you to create a celebration with memories that last forever.
Party buses are beginning to grow on the market because of the atmosphere created and the convenience offered. They are specifically designed for any occasion, making your ride last with enjoyment. Special lighting, music, entertainment, dancing and other options are added into the entertainment of the ride, dependent on your preferences and the type of party you are planning. While you are going to your next destination, you can enjoy drinks and food with your friends to liven the movement and to create even more memories. The atmosphere and amenities offered from the bus is known for high – end accommodations for comfort and to highlight the perfect atmosphere.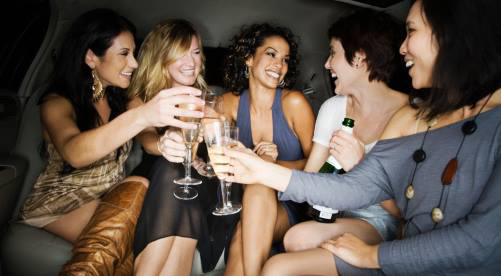 Parties With a Destination
The accommodations with party buses are only the beginning to enjoyment for your party. You will be able to rent a bus for relaxation while you are enjoying an evening out. The buses can be rented for a specific period of time, allowing you to pick-up friends and move to your next location. If you want to shift areas, then you can hop back into the bus to embrace even more of the experience. This allows you to make the most of every atmosphere while taking in more of the live entertainment and experiences around town.
This option also conveniently allows you to make the most of the evening without worrying about the logistics of driving with a large group of friends, often which takes away from the experience.
Convenience For Every Occasion
The services offered by party buses are also known because of the convenience offered. You will have the option of picking up and dropping off all friends. Even if you decide to ride through the night, the bus will remain available to assist with the next drop-off that you need. While you are driving, you will easily be able to connect to even more entertainment to keep the party lively and with builds in momentum.
If you want to catch onto the latest styles for a birthday celebration or special occasion, then you will want to hop onto the party bus. This trend is growing in popularity because of the convenience, atmosphere and entertainment offered. With this transportation, you will be able to keep the momentum of your party moving forward at every location and in – between the road. For an evening out on the town, the luxury of a party bus assists with living the occasion. With this option, you will have memories that last forever while enjoying the entertainment of your transportation.
Couples planning weddings have so many details to think about during the planning phase. You want to set the mood so that everyone has a good time. Here are some suggestions that may help you shine on your wedding day even during the bus ride to and from the wedding and reception.
Decide on the Message You Want to Convey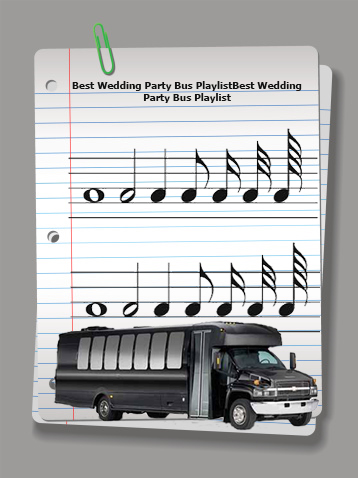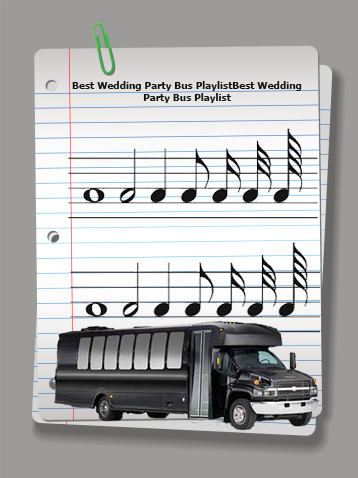 If you're having a formal wedding, you may want to stick to the classics. You, typically, will never offend with classical music like Air on G String by Bach or Canon in D by Pachelbel. However, you might bore your guests if their ears are not trained to appreciate classical music. If you want to keep a love theme going and keep the crowd mellow, you may want to play songs like:
Frank Sinatra – The Way You Look Tonight
Etta James – At Last
Bruno Mars – Just The Way You Are
Bryan Adams – Everything I Do (I Do For You)
Nat King Cole & Natalie Cole – Unforgettable or Elvis Presley – Can't Help Falling In Love
Alternatively, you could decide that you want to create a party atmosphere and prepare them for the reception. You can still follow the love theme and generate a feeling of euphoria with the crowd. Try songs like:
B-52's – Love Shack
Beyonce – Single Ladies (Put A Ring On It) or Beyonce – Crazy In Love
Katy Perry – Teenage Dream
Prince – Kiss
Rihanna – Only Girl In The World
Some brides and grooms could care less about the message. They just want to have a good time. So, that would open up the whole genre of music that you could explore. You may want to try songs that will get people in the mood to get on the dance floor at the reception. Here are a couple of examples:
Abba – Dancing Queen
Black Eyed Peas – I Gotta Feeling or Black Eyed Peas – Let's Get It Started
Grandmaster Slice – Electric Slide
Pink – Raise Your Glass
The Beatles – Twist & Shout
Other songs may be interspersed throughout to just keep the party going and help people join in song and have a good time. You want every moment to be memorable. This means that if you plan it, it will be. Here are some other good party songs that may also be suitable for a party bus.
Jay-Z with Alicia Keys – Empire State Of Mind
Aerosmith – I Don't Want To Miss A Thing
Eric Clapton – Wonderful Tonight
Dexy's Midnight Runners – Come On Eileen
James Taylor – How Sweet It Is (To Be Loved By You)
One Direction – What Makes You Beautiful
Aretha Franklin – Respect
Foundations – Build Me Up Buttercup
Journey – Don't Stop Believin'
Creating the Best Wedding Party Bus Playlist
If you want to your guests to have a good time, you can ask for suggestions also. Keep in mind that it's your day and you want to feel special, but if everyone has a good time, you'll be happier.
Party buses are exciting to experience. They are spacious, care free, fun, luring, and great for wedding parties. Transportation can be arranged for just about anywhere.
Although everyone is there for a fun time, there is proper etiquette to follow to ensure the entire time to be had is pleasant, fun, and safe. This will ensure the party bus experience is amicable for all the passengers and the driver. Here are some things to consider when renting a party bus:
Invite List
Tip for the Driver
Rules to Follow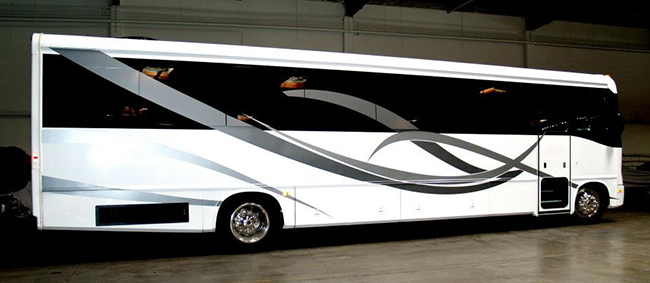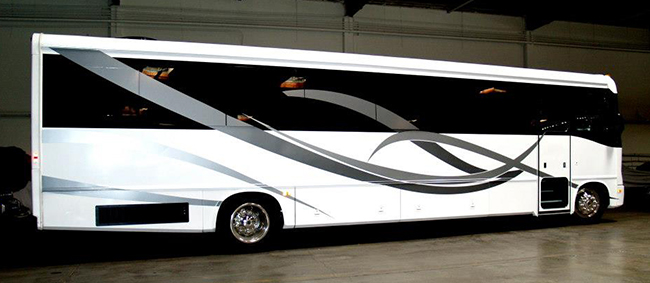 Invite List
Up to 55 passengers can ride in a party bus. Space is not an issue for even a large wedding party. Be sure to invite the entire wedding party and obtain confirmation on who will attend.
Tip
Inquire whether or not the tip for the driver's service is included in the price. If gratuity is already included in the price, then it is not necessary to leave the driver an additional tip. Should the tip not already be included in the price, it is important to leave a tip with the driver. The driver works hard to be on time for your event and provide great service, which adds to a great evening for you. The driver also looks out for the safety of everyone on the bus. When the driver does a great job, it means you have the opportunity to enjoy the event with no worries. The proper tip to leave would be 1 dollar per person on the bus or 15% of the overall cost of the rental.
Rules to Follow
Make sure you and everyone in your party are abiding by the law. Renting a party bus does not make anyone exempt from the law. Have fun, but keep the fun in perspective. You do not want to have any drunken mishaps on the bus or in public. Also, keep in mind that drinking on the party bus is illegal. Sometimes the drivers allow or even offer some alcohol on the bus, however, should they get caught, they could lose their license.
When a group of people are together having fun, the tendency is to get loud. The laughter, singing, joking and great conversations are part of the party and it is expected. But be sure no one is being a distraction to the driver. You do not want to cause an accident.
Typically in party atmosphere, people tend to let loose, including leaving trash around. This is not a cool thing to do, especially in the party bus rental. Make sure the trash gets put where the trash belongs – not on the floor or across the seats. This keeps the driver from having a mess to clean up and it keeps your party cleaner. If everyone follows the rules and proper etiquette, likelihood of you being allowed to rent a party bus again in the future should not be a problem. Follow these tips and the event is sure to be a success.
Renting a party bus is an excellent way to have a night or day of fun and adventure with a large group of people. A person can secure a party bus rental for a birthday bash, a wedding party, a bachelor or bachelorette event, a family reunion and more. The group can enjoy a wide range of activities since every town has a wealth of attractions and exhilarating events. The following are some ideas for things to do on a party bus: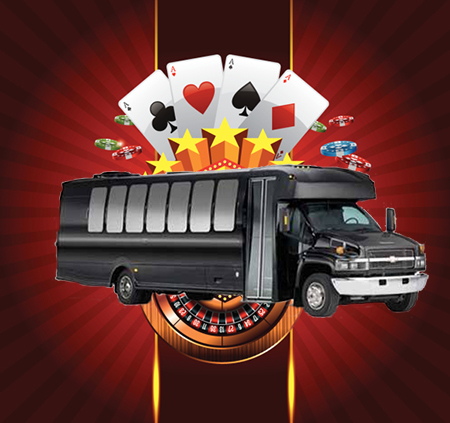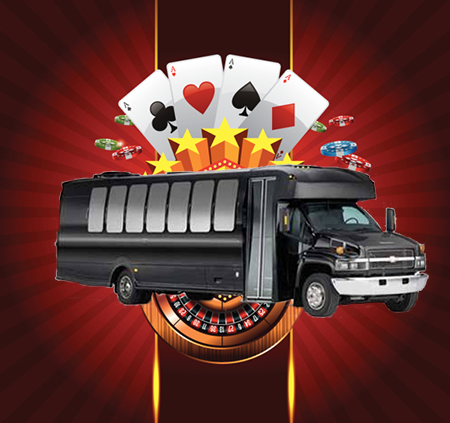 Visit a Casino
Casino group trips can be fun for everyone. Many casinos have promotional deals and discounts for groups that come in on a party bus. Players can enjoy slot machine games and a myriad of popular classic casino games. Additionally, they can schedule a tour of the casino if the unit is large. A guide can explain the history of the casino and take the members on a journey of the building. Group members can see the workers and the players in action. Next, they can experiment with the slot machines. The best thing about slot machines is that some of them will accept wagers that are as low as $.05. Group members can enjoy hours of play without losing a large amount of money.
Set up a Karaoke Event Outside
An afternoon or evening karaoke event can be refreshing and fun for all members. The event would require an open area such as a park or a parking lot. The members would need to have a karaoke machine, microphone and some instrumentals from popular artists. Alternatively, the group could visit a restaurant that has its own karaoke event. Doing such would reduce the expenses that the party host would have to accrue. Each member of the party can take a turn trying to mimic a popular artist. The group could hand out prizes for the best performances. Karaoke can provide long-lasting memories and laughs. Such parties are best when they include a few drinks.
Have a Dance-Off
Party buses often have enough room for sound systems and dancing. A bus may even have a pole that group members can use for special dance moves. Members could have competitions for the Best Party Bus Dancer Award. The bus DJ could play the latest top 20 tunes, or the person could choose from a selection of group favorites.
Roller Skating or Ice Skating
Members could enjoy one to two hours of face-paced and thrilling skating events. Skating rink rental is usually inexpensive for party groups. Skating is an amazing activity that can instigate positive feelings in all the members. Additionally, skating is an excellent source of exercise. Skating works many sets of muscles including the calf muscles, hamstrings, adductors, glutes, quadriceps and abdominal muscles. Not only will everyone laugh aloud, but also members will tone up their most precious muscles.
Party buses are the perfect vessels for creating a day full of playful adventures. The buses contain many accommodations that will help to make the daytime or nighttime event go smoothly.
As a symbol for the rich and powerful limousines are among the most luxurious automobiles in the world. While the stretched sedan may already come with a variety of elegant features, there are some who have recreated these automobiles to include even more exuberant amenities. Many people are lucky and get to ride in these vehicles often, for the rest of us there's this list of the top 10 most luxurious limos, enjoy.
10) Daimler DS420 Limousine -$4467.64
This old school classic known as the Daimler DS420 is one of the most recognized limos in the world. Used primarily as a funeral and mayoral transport in the United Kingdom, this automobile was in production from 1968-1992. Powered by a straight-six 4.3 liter XK engine, this automobile features the underpinnings of the Jaguar MkX, with a sleek and stylish interior design by Vanden Plas. Today these vehicles primarily serve as official state cars by the Danish, British, and the Swedish royal houses.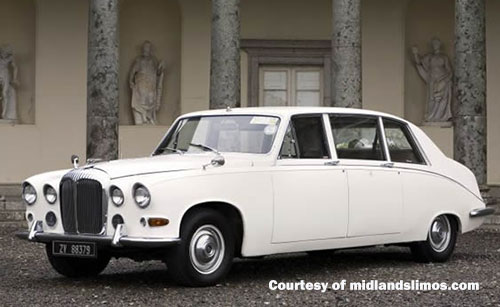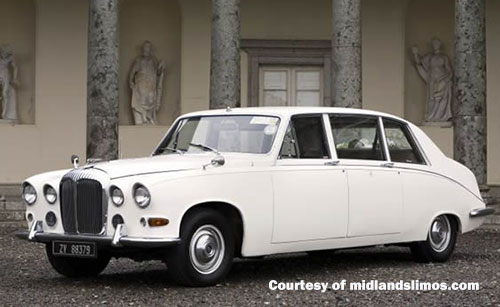 9) Cadillac XTS limousine-$48,635
Cadillac has always been a popular choice for those seeking luxury American cars. It's no wonder the Cadillac XTS limousine has also made the cut in being one of the most lavish forms of transportation in the world. With a 410 hp, 3.6- liter V6 engine and a six-speed automatic transmission this vehicle is a turbocharged version of the XTS sedan. The special luxury additions in this car include a rear center console, suede headliner, illuminated door handles and on board navigation. The front engine layout and all-wheel drive make for a smooth ride while the interior features make for a great experience.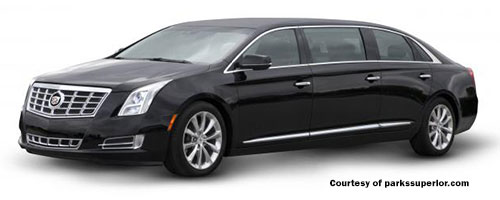 8) Porsche Cayenne Limousine- $75,000
This elongated version of Porsche's Cayenne SUV includes all the sophistication and class of its counterpart, but with way more gadgets. Powered by an eight-cylinder engine, the Porsche Cayenne SUV limousine's most popular features include a roomy interior with plenty of leg room, an on board sound system, and three flat screen television sets. This automobile is also equipped with a CD and DVD player and comes with an on board bar. The Porsche Cayenne SUV limousine also comes with touch screen entertainment controls and fiber optic lights, illuminated floor and ceilings.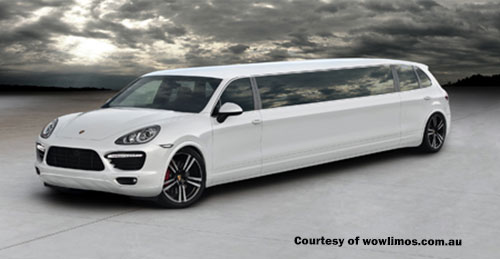 7) Bentley Mulsanne-$301.625
Essentially the Bentley Mulsanne is less the expensive option than the Rolls-Royce Phantom. This formal vehicle offers numerous features including privacy curtains in the passenger compartment that are electronically-operated. The best amenities are found within the passenger compartment where there are front headrest-mounted LCD screens, glass bottle coolers, carpeted footrests, and leather bound picnic tables that can accommodate both laptops and iPods. With 752lb and 505bhp of torque this car does not lack in the power front, and it can reach 190 mph, which is pretty impressive.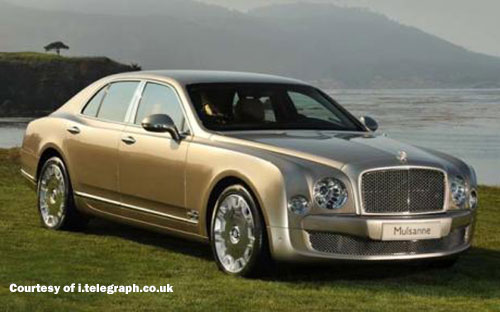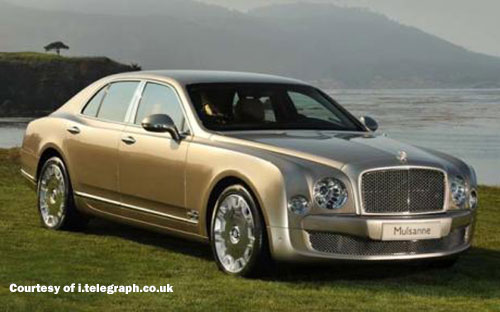 6) Rolls-Royce Phantom EWB -$470,295
Luxury and Rolls-Royce have been synonymous with one another for years. The Rolls-Royce Phantom EWB (extended wheelbase) is the first to come out after the brand was taken over by BMW continuing the legendary line. Powered by a 6.8 liter V12 engine, the Rolls-Royce Phantom EWB can push out 432 horsepower. Built to protect the passengers the Phantom's exterior is bullet proof. The interior features a full sized office, hand-polished wood, soft leather, and lamb wool carpeting. This vehicle remains at the top of its game as it is always a popular choice for formal events and weddings.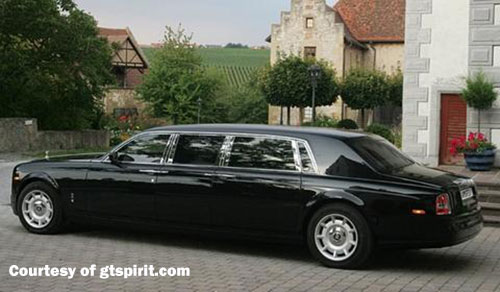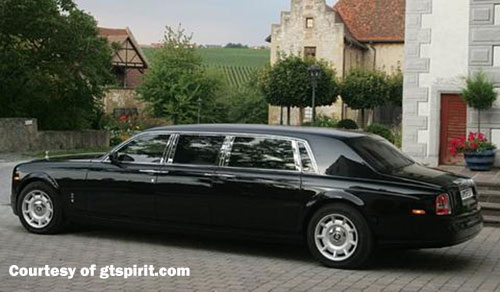 5) The Million Euro Mini-$ 1.35 Million
The most luxurious Mini Cooper on earth is known as The Million Euro Mini. This pink vehicle was designed by Metal Hammers own Juhan Losop, who is renowned for producing unusual vehicles and bikes. The lavish vehicle was built for Princess Regina Abdurazakova of Kazakhstan and her toy terriers Bustya and Barbie. The mini limousine has a Fire Diamond 47′ LCD TV, and Philips Ambilight installed in it. With 30 parking sensors, 20 parking cameras, and 70 TFT monitors the plush interior screams royalty. The exterior is also just as luxurious as its counterpart as it is decorated in over a million Swarovski crystals and the films for the windows have about 50 grams of pure gold in them.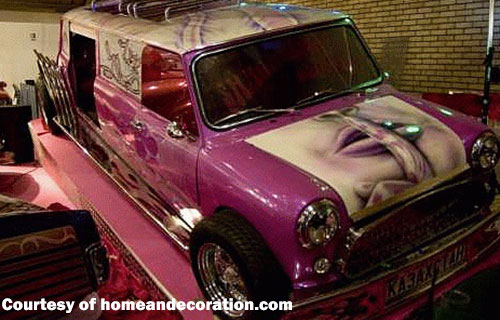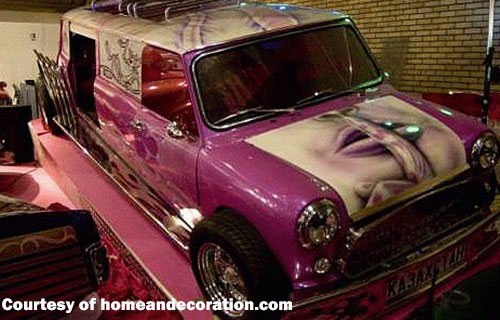 4) The Midnight Rider- $2.5 Million
This automobile has every element needed to get the party started. Designed in 1986 The Midnight Rider is the world's largest limousine for hire. The limousine is made out of a tractor trailer and is 70′ long and 13'8" high. Utilizing stainless-steel H-frame construction with an aluminum belt and 1400 aircraft welds that are nearly sixteen times thicker than conventional big rigs, this nightclub on wheels has a safe and solid frame surrounding the 416 square foot space. The limo can hold about 40 passengers at one time and comes with a full-size bar, bartenders and a DJ. Passengers will enjoy visiting each of the three separate lounge areas and listening to the music blasting out of the 1,800 watt speaker system.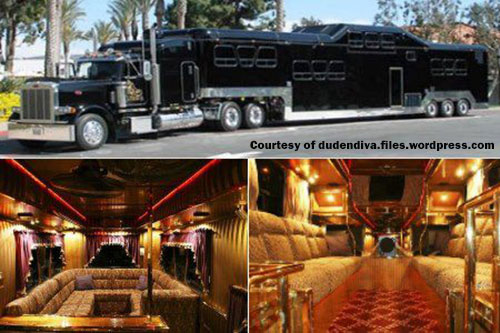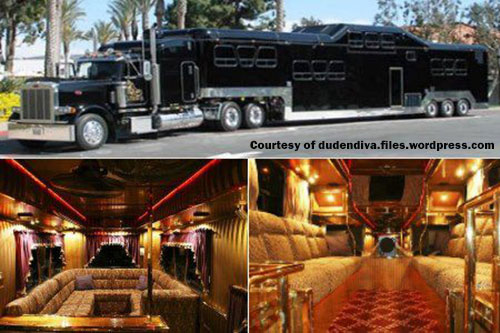 3) The American Dream-$4 Million
When you have a limo with this much space, you can add all the luxurious amenities you want. The American Dream holds a Guinness World Record as it is the longest car ever built. Created by Jay Ohrberg a car collector and builder that specializes in creating unusual cars for television and film. The vehicle is 100 feet in length and has two driver cabins one in the front and one in the rear, 26 wheels, and hinged midsection to turn corners. Other special features include a swimming pool, Jacuzzi, a king sized bed, and a helipad.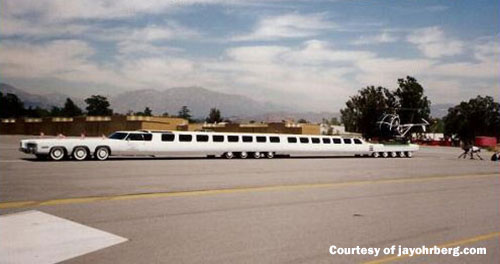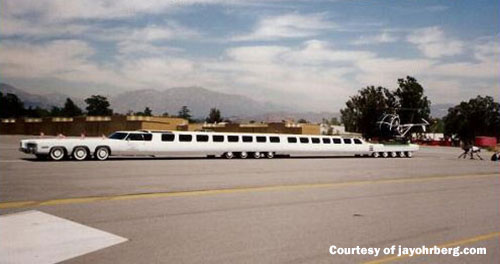 2) Batmobile Limousine-$4.2 million
The alter ego of Bruce Wayne deserves to travel in luxury too. As the most expensive limousine built in the year 2012, the Batmobile limo was inspired by the illustrious Batman movies of the 80s and 90s. The vehicle incorporates all the standard features of the comic book series; this automobile even includes gadgets and tools from the movie as well. With integrated speakers and bat wings over the trunk, many people will forget that they're not a superhero.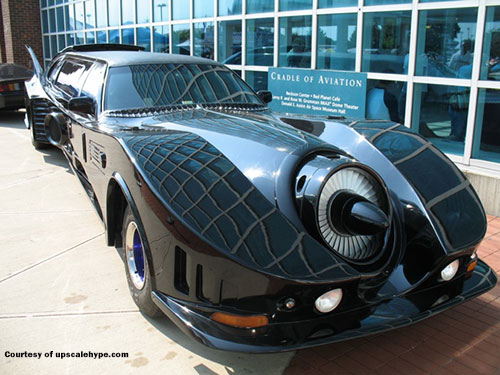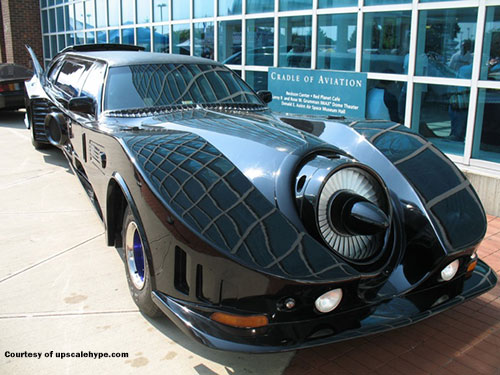 1) The Sultan of Brunei's Rolls Royce Silver Spur Limo- $14 million
Hassanal Bolkiah isn't just The Sultan of Brunei he's also a vehicle enthusiast. While other men will collect sports memorabilia or action figures, the Sultan would much rather prefer to collect cars. In fact, he has over 7,000 of them. His most prized vehicle just happens to be his Rolls Royce Silver Spur Limo. The car emulates the Sultans extravagant tastes as it has been plated in 24 carat gold and features an open back end awning.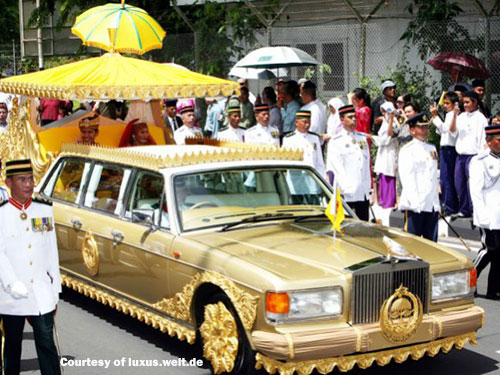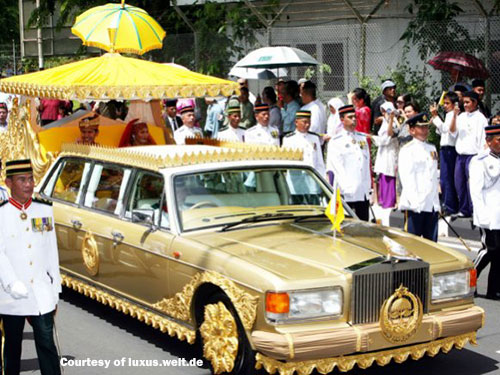 As the pinnacle of luxury cars limousines allow their passengers to experience some the finest features available in an automobile. Whether you want to watch TV, have a drink, dance or swim there is a limo out there that can accommodate your needs. From classic to reinvented models one thing is for sure limousines are one of the only vehicles that will never go out of style instead they will just keep getting even more luxurious.
A wedding day is equally exciting and exhilarating, anxious and nerve-wracking. So many things are going on throughout the course of the day, and before you know it, the reception is over and the couple is on their honeymoon! Planning out the big day is tough, but always worth it. One piece of the wedding planning puzzle usually revolves around transportation to the ceremony for the wedding party – the trip itself tends to become one of the most fun, memorable, and wild parts of the whole day! Although there are many options for these modes of transportation, selecting a party bus as the nuptial vehicle is becoming more and more popular. The buses are spacious and comfortable and usually come equipped with any number of food and beverage requests. Below is a list of some of the best types of snacks for the wedding day party bus.
Champagne – it's fun, it's celebratory, and most importantly, it won't stain the wedding dress! Champagne goes hand in hand with celebrations, and there is no bigger type of celebration than a wedding. It also isn't too high in alcohol content, which means that you can get the party started without too much fear of having a sleeping groomsman at the altar. Bottles range in size, taste, and price, so no matter if you are drinking on a budget or pouring glasses lavishly, you will be able to find the perfect bottle of bubbly to make the trip with you.
Pretzels – these can come in handy in case anyone needs a little pre-wedding snack, but also if someone enjoys the drinks on hand a little too much before the ceremony. They're cheap, they don't make too much of a mess, and are an easy clean up. They can also help sober up any drunken cohorts or provide a little sustenance to the bride on her big day without being too filling.
Water/Sprite – these are always good to have on hand whether or not you are drinking alcohol. The water is good to stay hydrated, help sober up passengers, and help calm nerves, and Sprite is good because, again, it won't stain the wedding dress if any spills occur. If possible, try to have the miniature sized water bottles on hand – they are easy to carry in coat pockets or purses for any last minute hydration.
Mints – no one wants bad breath on the wedding day, whether you are the bride, the groom, or merely one of the ushers! Mints come in many shapes, sizes, and even flavors, and they can even come customized to add a personal touch for the party. These are even easier to hide than the mini water bottles, and can be handed out to whoever needs them at the last minute.
Taking a party bus to the wedding is an excellent way to get the bridal party excited while ensuring safe transportation. Arriving in style always boosts confidence, and what looks better than pulling up in a lavish bus with leather seats and strobe lights? Pack your party bus with these safe, reliable snacks and you will be well on your way to the best day of your life.
If you rent a party bus, you will have a great time. While true, you don't want to waste your time and money if you simply sit on the bus as it barrels down the road. No, you will want to figure out what you can do for fun. With this in mind, here are five fun activities to do on the bus.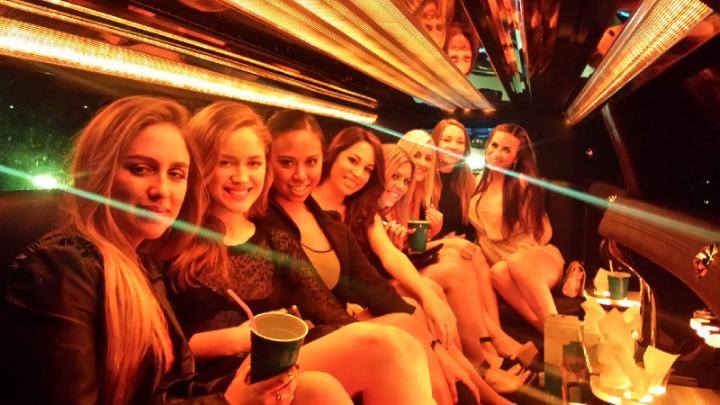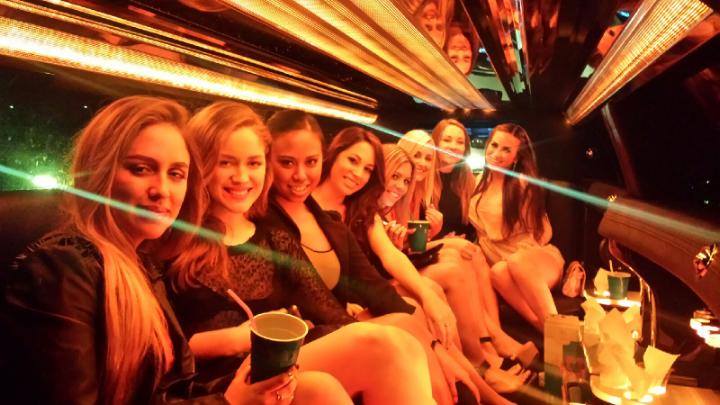 Watch DVD's: Now, if you are looking to party but want to keep it cool, you should consider watching a DVD or two. This is true whether you watch television shows or movies that you wanted to see. Remember, you can still drink a beer or two and enjoy your time as a group. Remember, with Netflix and other video rental services, you can find the best DVD's that you can enjoy for a few hours. Simply put, when watching DVD's, you can enjoy time with your buddies.
Drinking games: When going down the road, you can have fun if you take shots every time you see a certain type of vehicle. Think about it, if you are driving your own car, you certainly can't drink alcohol as it's against the law. On the other hand, you will enjoy a truly liberating experience since most of us will never get to do that during the day. Simply out, if you want to enjoy your time, you should play drinking games while in the party bus. But always drink responsibly!
Karaoke: Think about how fun it is to go to a bar and listen to people sing Rod Stewart, Elton John or other greats. When you do this, you are all but guaranteed to have a great time as everyone raises their glasses to compliment the wannabe singer. For this reason, if you are on a bus, you can enjoy your favorite beers and shots, then you can sing your heart out and enjoy your day. Simply put, with karaoke, you are going to have a great time while on the party bus.
Dancing: Believe it or not, if you dance on a party bus, you are going to have a great time as you can fly down the freeway and have fun while looking at the other gloomy faces. Since you can have a great time, listening to music and dancing around, ywhile having lots of fun on the dance floor. Remember, while on the bus, you will want to let loose, and you can do so while you are dancing the night away.
Pictionary: Finally, if you are looking for a family-friendly activity, you should consider Pictionary. Without a doubt, this is a great way for you and your family to have fun and stay out of trouble. Simply put, if you want to have a nice night and avoid trouble, consider this game as a way to pass the time while on the party bus with your closest friends and family members.
If you are like most people, you will want to have the time of your life while on a party bus. This is not hard to do as there is so much for the average person to do. Not only that, you don't have to necessarily get drunk or cause a lot of commotion as there are plenty of family-friendly and healthy activists to consider.
Party buses have become a new trendy vehicle to take on the road for those times you want to go out in style. While it's often used for fun and glamorous occasions, you can rent one of these vehicles for any reason. Check out some of the most popular places to go on a party bus below: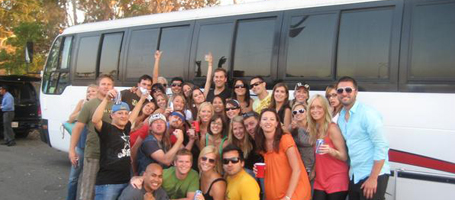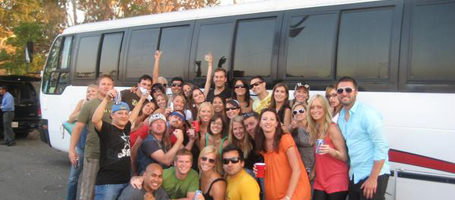 Sweet Sixteen
Nothing screams a party bus more than a sweet sixteen. This occasion is all about celebrating your youth, but also that time in your life where you're slowly growing up and branching out on your own. With a party bus, you can gather up some of your closest friends and ride to the big event in true style.
Prom
Another major event that practically every teenager experiences is a prom. In fact, it has become somewhat of a high schooler's rite of passage. Since teenagers usually attend their proms in a huge group of people, clearly something larger than your average stretch limo is needed here. With a party bus, you'll have enough room to include all of your best friends and their dates, so that no one is excluded. Plus, here you'll have room to spread out and dance, really enjoying this night to remember.
Quinceanera
Similar to a sweet sixteen, when Latin girls turn 15, their families usually throw them one huge quinceanera. That's because, in their culture, 15 is the age that transitions the young woman from childhood to womanhood. While some view this celebration as more of a religious driven occasion, others see it as one huge party. With that said, if it's a party, you need to show up in a party bus. That way you can blast some music, and relax before walking into your event.
Sporting Events
Whether you're hitting up a baseball, basketball, football or hockey game, the party bus is a great addition for the night. That's because when people head out to these types of events, they often like to drink beer and other kinds of alcoholic beverages. By renting out a party bus, you don't have to worry about having one too many drinks. Instead, you can just focus on having a good time. Plus, once again, you can fit a large amount of people in a party bus, so you don't have to stress about taking a bunch of cars to the venue. This means you won't each have to pay parking, saving you a lot of money in the process.
Concerts
Like with sporting events, a party bus is a great vehicle to rent out for concerts. When you attend a concert, chances are you're going with a bunch of people. Now instead of each person driving their own car to the venue and wasting money on gas, tolls and then parking, you can just come in one vehicle. Plus, nothing hypes up a group of people quite like a party bus does. Here, you can listen to the artist's music before actually seeing them live in concert. Of course since a party bus is much larger than your average car, you even have room to get up and dance. By the time the party bus reaches the venue, you'll be ready and pumped to have a fun night of music.
When renting transportation services for a wedding event, many people want to enjoy riding in a formal vehicle that is comfortable and safe to travel in. A traditional limo is one of the main choices that people consider for the special day for a high-end luxury vehicle that offers a roomy interior. The car also makes quite the impression when pulling up to the ceremony or when used to transport the bride and groom. Although most people consider a limo as their primary choice, more people are now opting for renting party buses for the fun and excitement that they offer. With both a party bus and limo to choose from, there are several options to consider between the two vehicles.


Instead of worrying about your wedding party arriving to the ceremony late or guests getting lost on the way, a party bus can make for a fun way to travel that allows friends and family to spend more time together on the way to the ceremony. The party bus will offer more seating options than traditional limos, which will allow more groomsmen or bridesmaids to travel together. The party bus can also be used to bring along more bags, luggage, or items that are needing for the wedding ceremony than a limo.
Renting a party bus allows each passenger to have fun and get noisy in an environment that is more relaxed than a limo. Guests have more room to stand, dance, and countdown to the ceremony while making memories in the vehicle on the way. The high ceiling and wider vehicle makes it easy to have more freedom to move without feeling confined in a sedan. This allows the passengers to take photos, enjoy flashy lighting, and even watch television during the ride for transportation that is anything but typical. Guests will also feel comfortable with their formal attire and having room for large dresses that they may be wearing for the wedding.
Another perk of a party bus is the luxury of the ride, which isn't compromised with the design and amenities of a larger vehicle. Many people may worry that a party bus is a less formal option for the wedding, but a party bus features the same luxuries for a high-end way to travel.
Renting a limo on a wedding day is ideal for smaller wedding parties who do not have as many passengers to bring along. A limo will feature leather seats, complimentary beverages, and a professional chauffeur who will make it a point to provide exceptional service with the transportation. A limo also offers more privacy than a typical party bus as the driver is in a separate section of the vehicle that is closed off from passengers. The bride and groom can make conversation in privacy or have more seclusion for an intimate way of traveling.
Limousines may also feature neon lighting or television screens inside of the vehicle for a fun way to travel with the bridesmaids or groomsmen. Passengers will also have complete control over the radio settings during the ride.
When choosing between a limo or a party bus, the bride and groom should consider the amount of people that they want traveling together in one vehicle and the level of fun that they expect to have before making their choice.
Birthdays, pre-wedding outings and many other occasions inspire people to find unique ways to commemorate these special events.
Take the gamble out of driving. ULC PARTY BUS offers turnaround, overnight, and weekend trips to both Las Vegas, the Stateline, Indian Casinos, and Laughlin. Sit back, relax, do some karaoke, and enjoy the ride in one of our luxurious Party buses while our courteous and professional chauffeurs do the driving.
If you want looking for an Orange County party Bus or a Los Angeles party bus, you need to check a few things if you want a safe and relaxing ride. It's not enough to just hire the first firm that offers you dirt cheap rentals, if you want, say, an Orange County Party Bus.
You need to check whether you are actually dealing with a broker or the actual carrier; brokers do not, and cannot, guarantee the actual condition of the vehicle you rent. They are just middlemen out to make a fast buck. You should also check whether the carrier has the requisite permits to operate legally within the State of California. Otherwise, if your Los Angeles or Orange County party Bus is ever pulled over, it could be towed away! The chauffeurs should also have the appropriate license to operate passenger vehicles, or else you risk not just an interrupted ride, but also your life and limb!
It is far better to choose an established firm like ULC Party Bus, which may offer more realistically priced rentals, but with the guarantee of having all the necessary certifications and licenses. You should rent your party transport from a carrier that offers full insurance cover for its passengers, at the very least. For instance, at ULC Party Bus, we cover even our drivers, besides the passengers. We also suggest that you should personally go and check the fleet of the bus rental firm if possible. This will help you see whether their party buses and limos really are in good condition or not. That's why we always urge every one of our customers to come and inspect our vehicles themselves; it helps reassure them of our stringent quality standards.
So you see, when you choose a reputed carrier like us, you can really relax, let your hair down and party the night away with no worries. There just isn't a better way to party!
ULC Party Bus absolutely rocks! Whether you want a prom party bus, a bachelor party bus, a wedding party bus or any other kind of party bus, this bus rental company is the best choice! How do I know? Well, I am speaking from experience as I and my family
We were looking for party buses to take us to a Bon Jovi concert last month. Ours was a huge group who'd decided to go together, so we could settle for nothing less than a 20 passenger party bus. We looked around a lot for companies that offered party buses, but we couldn't find any decent ones.
I want to tell you about the great party bus rental services offered by ULC Party Bus, which in my opinion is the best choice for all types of party bus and stretch limo rental services. ULC is also one of the few premium firms which offer such affordable party bus prices.
One of the latest ways to rock with your friends is to invite them for party on wheels. Whether you are celebrating your birthday, anniversary or simply a night out with friends, you can always have loads of fun on a Party Bus Los Angeles.
Transportation can be so much fun and excitement in an Orange County Limo Bus. You might have travelled in exclusive limousines / Lamborghinis or Ferraris, but travelling in a party bus would take your travelling experience to a whole new level.
I was organizing a friend's wedding and bachelor night and was looking for the right transport, Limousine party buses. I wasn't sure which vehicle should be booked for which occasion and finally came across ULCpartybus.com.
Partying in Party buses is a never ending fun experience that starts right from the time you board the bus and lasts till you get down. The party might end with the journey but fond memories of the party on wheels stays forever.
Recently we were looking for a party place which is economic and offers space to enjoy and laze around. Well I was disheartened to know that all places were too expensive and did not match the budget for small celebrations like birthday parties, bachelor parties, kitty parties, personal and small professional celebrations.
What could be the better way to get around seeing Los Angeles city other than using limo bus rental that knows the areas extremely well? Not only they know the in and out of the city, but are familiarized with the best restaurants, clubs and bars.
My friend was getting married and it was up to me to make plans for the bachelor party. Now I had heard about party buses that were designed especially for such nights so I thought of trying that. An internet search for companies in LA led me to ULC Party Bus.
Hiring a wedding party bus has always been on my marriage to-do list since I felt partying onboard some nice wheels would be fun. The only thing I was not sure about was the rental prices. I didn't know how much companies charged and did not want to
If you plan to go on a party with your friends or family, you would surely require a Party bus. This is the perfect idea to celebrate a get together with absolute fun. Imagine all of you sitting in a single bus and enjoying a ride while singing your
Few things could be as exotic as arriving for a group event in limousine party buses. Group events, as the name indicates tends to involve and event or a function where people know each other personally or are related in some way or other. It could be anything from a prom night, a bachelor's party or a corporate conference.
If you are on for a big rocking party and want to make it special, there are certain things that you need to add in your plan. While planning for a real party time, the first thing you need to decide is looking for a destination, where you can head to and have a gorgeous fun time.
Prom party is one of the most exciting events during college time. Both the junior and senior students want to have a grand bash that day. Everyone wants to flaunt his/her unique style so that they can impress everyone present in the crowd.
Ever enjoyed a memorable party bus journey to a friend's wedding or a cousin's bachelor party? I am sure the journey must have been more than eventful and there are scores of reasons why it still puts you into splits of laughter.