November 19th, 2014
When you want to enjoy an amazing party out with your friends, but don't want to have to find a way to provide transportation for everyone, look no further than a party bus. A party bus combines the exciting dance floors, bars and HD TVs that you can find at most clubs and bars with an intimate and relaxing atmosphere for just you and your friends. A party bus is a decked out limo that can usually hold up to 40 passengers, making it the perfect destination to party. Here's 3 great reasons for you and your friends to get on board a party bus.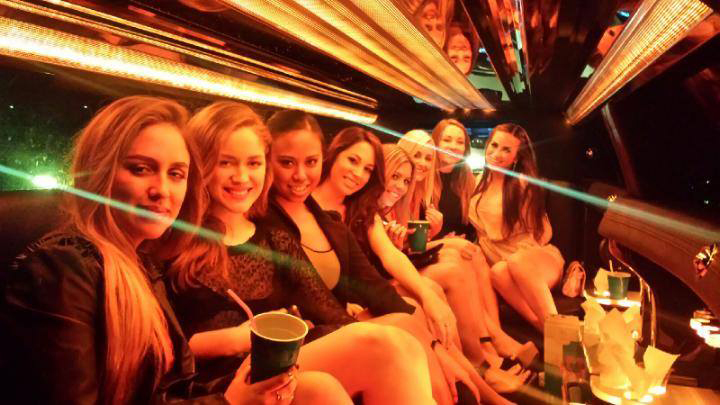 Prime Spot to Hang Out With Your Friends
There's no better place to spend time and party with your friends than on a party bus. Clubs and bars can be overcrowded at the best of times, making it difficult to just have fun with the people closest to you. But with a party bus, you will find that you can fit yourself and up to 39 other passengers in a bus that is more than big enough to hold everyone. You've never traveled in better style than a party bus and all of this can be enjoyed by your group of friends, no matter the type of party you have in mind. Wherever you want to go, a party bus will make the travel just as fun and exciting as the destination.
Includes All of the Amenities and Services You Could Ever Want
When you're traveling in a party bus, we want you to feel as though there's nothing in the world more amazing than what's going on inside the party bus with you and your friends. The amount of amenities and services available to you is even more than you could receive when flying in first class. For instance, here are a few of the best amenities:
Club-like lighting systems that electrify the party
Unbelievable sound systems that will have you and your friends dancing to the latest and greatest musical artists in style
High-def plasma TVs for you and your friends to watch the big game
Includes both alcoholic and nonalcoholic beverages, as well as tasty snacks and delicious foods
You can also expect us to deliver a myriad of enticing services to make sure your experience is top notch, such as:
VIP entry to most local clubs that you want to swing by
Driving to any destination that you want
Designing the bus decor to match the type of party that you want to throw, from birthday parties to bachelor parties and everything in between
Can Travel Anywhere You Want Without Need of Designated Driver
One of the worst aspects of going out to party is that you need a designated driver to take you everywhere, which means that they can't join in the fun. However, with a party bus, we are the designated drivers and all of your friends can simply enjoy partying together. We will take you anywhere you want to go, whether that involves hopping between some of the city's hottest clubs or attending the local football game. Whatever you want, we are here to deliver.
class='st_linkedin_hcount'> class='st_plusone_hcount'> class='st_fblike_hcount'> class='st_twitter_hcount'>