September 23rd, 2022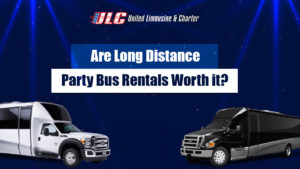 Are Long Distance Party Bus Rentals Worth It?
Are you preparing to go a great distance with a group of friends you haven't seen in a long time? You could want to make this more interesting by not using your automobiles. You may hire a party bus and go on a long journey so that you can all talk to each other.
Long-distance travel is conceivable, even though a party bus is usually used for a fun night or weekend. Depending on their size, they may accommodate up to 50 passengers, which is more than adequate for most occasions. So, are party bus rentals in California wise for extended trips to Vegas or San Diego? Yes, they do!
Why Would A Party Bus Be Necessary For A Long Distance Trip?
A party bus service may undoubtedly heighten the thrill of a long-distance vacation you have been preparing for with family and friends for several months. Traveling can occasionally be challenging, mainly when several individuals operate several cars. On your route to your big event, one of them can malfunction. You may leave it up to the driver to decide which routes to take and how to arrive on time rather than stressing about it. Party buses that are designed primarily for long-distance travel are available for charter. However, you need to choose the best business.
How To Select Party Bus Providers For Long Distances
Start your search by just looking for companies that rent out party buses. They will list the activities they want to utilize their vehicles on the website. For long-distance travel, there will often be an option of party buses. Once you've located them, you should give them a call. You will find out how many people these buses can accommodate and how far they can be driven. Finally, you will receive a price quotation for the party bus you want to hire. You will discover the top offers via this investigation.
How to Spend Less When You Rent One
Many party buses are full-sized buses that can transport passengers at great distances. There are several more, nevertheless, that you might wish to take into account. You may book executive mini buses, coach buses, or even school buses to transport your children to a faraway place. With all of these alternatives accessible, you may need to question which one would be the most excellent pick for you. Additionally, you will receive suggested offers while doing this, which might help you save money if you charter a party bus for a lengthy journey.
A special occasion will be even more memorable if everyone travels together. The cost may change depending on how far the bus will drive and the prices each company will charge.
You will eventually find the ideal company providing discounts on long-distance journeys or birthday party bus rentals through your due diligence. Find a long-distance party bus rental business immediately if you want to share this momentous event with friends and family.
class='st_linkedin_hcount'> class='st_plusone_hcount'> class='st_fblike_hcount'> class='st_twitter_hcount'>