October 22nd, 2014
Renting a party bus is an excellent way to have a night or day of fun and adventure with a large group of people. A person can secure a party bus rental for a birthday bash, a wedding party, a bachelor or bachelorette event, a family reunion and more. The group can enjoy a wide range of activities since every town has a wealth of attractions and exhilarating events. The following are some ideas for things to do on a party bus: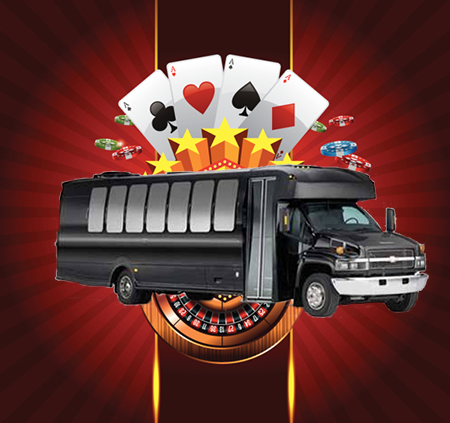 Visit a Casino
Casino group trips can be fun for everyone. Many casinos have promotional deals and discounts for groups that come in on a party bus. Players can enjoy slot machine games and a myriad of popular classic casino games. Additionally, they can schedule a tour of the casino if the unit is large. A guide can explain the history of the casino and take the members on a journey of the building. Group members can see the workers and the players in action. Next, they can experiment with the slot machines. The best thing about slot machines is that some of them will accept wagers that are as low as $.05. Group members can enjoy hours of play without losing a large amount of money.
Set up a Karaoke Event Outside
An afternoon or evening karaoke event can be refreshing and fun for all members. The event would require an open area such as a park or a parking lot. The members would need to have a karaoke machine, microphone and some instrumentals from popular artists. Alternatively, the group could visit a restaurant that has its own karaoke event. Doing such would reduce the expenses that the party host would have to accrue. Each member of the party can take a turn trying to mimic a popular artist. The group could hand out prizes for the best performances. Karaoke can provide long-lasting memories and laughs. Such parties are best when they include a few drinks.
Have a Dance-Off
Party buses often have enough room for sound systems and dancing. A bus may even have a pole that group members can use for special dance moves. Members could have competitions for the Best Party Bus Dancer Award. The bus DJ could play the latest top 20 tunes, or the person could choose from a selection of group favorites.
Roller Skating or Ice Skating
Members could enjoy one to two hours of face-paced and thrilling skating events. Skating rink rental is usually inexpensive for party groups. Skating is an amazing activity that can instigate positive feelings in all the members. Additionally, skating is an excellent source of exercise. Skating works many sets of muscles including the calf muscles, hamstrings, adductors, glutes, quadriceps and abdominal muscles. Not only will everyone laugh aloud, but also members will tone up their most precious muscles.
Party buses are the perfect vessels for creating a day full of playful adventures. The buses contain many accommodations that will help to make the daytime or nighttime event go smoothly.
class='st_linkedin_hcount'> class='st_plusone_hcount'> class='st_fblike_hcount'> class='st_twitter_hcount'>