November 5th, 2014
Couples planning weddings have so many details to think about during the planning phase. You want to set the mood so that everyone has a good time. Here are some suggestions that may help you shine on your wedding day even during the bus ride to and from the wedding and reception.
Decide on the Message You Want to Convey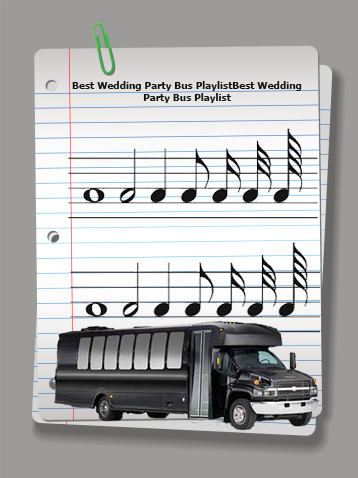 If you're having a formal wedding, you may want to stick to the classics. You, typically, will never offend with classical music like Air on G String by Bach or Canon in D by Pachelbel. However, you might bore your guests if their ears are not trained to appreciate classical music. If you want to keep a love theme going and keep the crowd mellow, you may want to play songs like:
Frank Sinatra – The Way You Look Tonight
Etta James – At Last
Bruno Mars – Just The Way You Are
Bryan Adams – Everything I Do (I Do For You)
Nat King Cole & Natalie Cole – Unforgettable or Elvis Presley – Can't Help Falling In Love
Alternatively, you could decide that you want to create a party atmosphere and prepare them for the reception. You can still follow the love theme and generate a feeling of euphoria with the crowd. Try songs like:
B-52's – Love Shack
Beyonce – Single Ladies (Put A Ring On It) or Beyonce – Crazy In Love
Katy Perry – Teenage Dream
Prince – Kiss
Rihanna – Only Girl In The World
Some brides and grooms could care less about the message. They just want to have a good time. So, that would open up the whole genre of music that you could explore. You may want to try songs that will get people in the mood to get on the dance floor at the reception. Here are a couple of examples:
Abba – Dancing Queen
Black Eyed Peas – I Gotta Feeling or Black Eyed Peas – Let's Get It Started
Grandmaster Slice – Electric Slide
Pink – Raise Your Glass
The Beatles – Twist & Shout
Other songs may be interspersed throughout to just keep the party going and help people join in song and have a good time. You want every moment to be memorable. This means that if you plan it, it will be. Here are some other good party songs that may also be suitable for a party bus.
Jay-Z with Alicia Keys – Empire State Of Mind
Aerosmith – I Don't Want To Miss A Thing
Eric Clapton – Wonderful Tonight
Dexy's Midnight Runners – Come On Eileen
James Taylor – How Sweet It Is (To Be Loved By You)
One Direction – What Makes You Beautiful
Aretha Franklin – Respect
Foundations – Build Me Up Buttercup
Journey – Don't Stop Believin'
Creating the Best Wedding Party Bus Playlist
If you want to your guests to have a good time, you can ask for suggestions also. Keep in mind that it's your day and you want to feel special, but if everyone has a good time, you'll be happier.
class='st_linkedin_hcount'> class='st_plusone_hcount'> class='st_fblike_hcount'> class='st_twitter_hcount'>