September 25th, 2014
Party buses have become a new trendy vehicle to take on the road for those times you want to go out in style. While it's often used for fun and glamorous occasions, you can rent one of these vehicles for any reason. Check out some of the most popular places to go on a party bus below: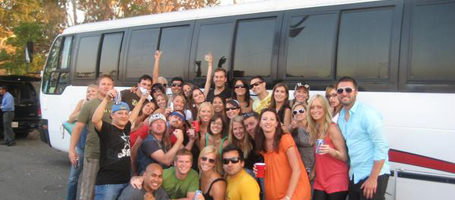 Sweet Sixteen
Nothing screams a party bus more than a sweet sixteen. This occasion is all about celebrating your youth, but also that time in your life where you're slowly growing up and branching out on your own. With a party bus, you can gather up some of your closest friends and ride to the big event in true style.
Prom
Another major event that practically every teenager experiences is a prom. In fact, it has become somewhat of a high schooler's rite of passage. Since teenagers usually attend their proms in a huge group of people, clearly something larger than your average stretch limo is needed here. With a party bus, you'll have enough room to include all of your best friends and their dates, so that no one is excluded. Plus, here you'll have room to spread out and dance, really enjoying this night to remember.
Quinceanera
Similar to a sweet sixteen, when Latin girls turn 15, their families usually throw them one huge quinceanera. That's because, in their culture, 15 is the age that transitions the young woman from childhood to womanhood. While some view this celebration as more of a religious driven occasion, others see it as one huge party. With that said, if it's a party, you need to show up in a party bus. That way you can blast some music, and relax before walking into your event.
Sporting Events
Whether you're hitting up a baseball, basketball, football or hockey game, the party bus is a great addition for the night. That's because when people head out to these types of events, they often like to drink beer and other kinds of alcoholic beverages. By renting out a party bus, you don't have to worry about having one too many drinks. Instead, you can just focus on having a good time. Plus, once again, you can fit a large amount of people in a party bus, so you don't have to stress about taking a bunch of cars to the venue. This means you won't each have to pay parking, saving you a lot of money in the process.
Concerts
Like with sporting events, a party bus is a great vehicle to rent out for concerts. When you attend a concert, chances are you're going with a bunch of people. Now instead of each person driving their own car to the venue and wasting money on gas, tolls and then parking, you can just come in one vehicle. Plus, nothing hypes up a group of people quite like a party bus does. Here, you can listen to the artist's music before actually seeing them live in concert. Of course since a party bus is much larger than your average car, you even have room to get up and dance. By the time the party bus reaches the venue, you'll be ready and pumped to have a fun night of music.
class='st_linkedin_hcount'> class='st_plusone_hcount'> class='st_fblike_hcount'> class='st_twitter_hcount'>