November 27th, 2014
When it comes to travel-oriented special events, sometimes a standard limousine is not enough to accommodate all of the participants. This is one reason why party buses are gaining popularity as go-to rental vehicles. The following information will help people who have thought about renting a party bus learn what to look for and what to ask for before they make a final decision.
Quality vs. Quantity
Party buses, also referred to as "limo buses," come in various sizes and rental fees can exceed one thousand dollars. As such, it can be very easy for a budget-conscious person to be enticed by what appears to be a good deal on a party bus that will accommodate the size of his or her party and not realize that the company he or she is considering is not in compliance with city or state regulations. For example, the party bus rental business may be employing drivers who are not properly trained or using buses that are in need of repair.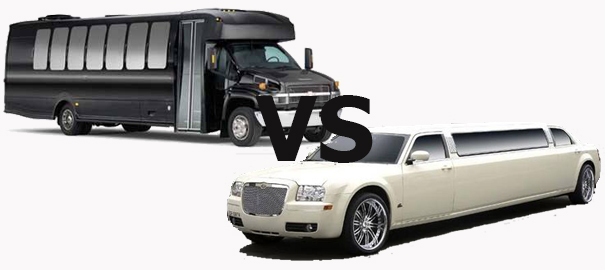 This is why it is imperative that prospective customers ask party bus rental representatives for proof of inspections, insurance and qualified drivers. Companies that fail to produce this information should be avoided. An example of a party bus rental company that values quantity over quality would be one that tries to accommodate more than 30 people on a party bus that was designed to seat no more than 30 people. In an attempt to "gloss over" the facts, the company may offer customers discounts and other extras.
While representatives of reputable party bus companies will let patrons know exactly how many passengers can be comfortably seated on a specific party bus, prospective customers should still take it upon themselves to inspect the seats prior to renting the bus to ensure that there is enough room to accommodate older adults and overweight or otherwise disabled individuals who will be in attendance.
Details
Once a person has selected a party bus rental company, he or she needs to obtain written verification of the services to be rendered by the business. For example, the booking should confirm the type of bus that is to be rented, the exact cost of the rental and any other applicable fees such as gratuities and a cancellation fee. A schedule that outlines exactly when and where the patron's party will be picked up and dropped off should also be included.
Amenities
Customers need to discuss amenities with party bus rental company personnel and inspect the items before any financial transactions take place. For example, televisions and sound systems, if available, should produce crisp images and clear audio. Special effects lighting and other equipment should work properly as well.
Some party bus rental companies provide food, drink and music in addition to transportation while others may not. Prospective clients need to ask if these services are part of the rental agreement. If not, they may need to find another party bus rental company.
By taking the aforementioned precautions, prospective party bus rental customers will be
able to avoid unnecessary expenses and other circumstances that would prevent them from enjoying their special event.
class='st_linkedin_hcount'> class='st_plusone_hcount'> class='st_fblike_hcount'> class='st_twitter_hcount'>