October 15th, 2014
As a symbol for the rich and powerful limousines are among the most luxurious automobiles in the world. While the stretched sedan may already come with a variety of elegant features, there are some who have recreated these automobiles to include even more exuberant amenities. Many people are lucky and get to ride in these vehicles often, for the rest of us there's this list of the top 10 most luxurious limos, enjoy.
10) Daimler DS420 Limousine -$4467.64
This old school classic known as the Daimler DS420 is one of the most recognized limos in the world. Used primarily as a funeral and mayoral transport in the United Kingdom, this automobile was in production from 1968-1992. Powered by a straight-six 4.3 liter XK engine, this automobile features the underpinnings of the Jaguar MkX, with a sleek and stylish interior design by Vanden Plas. Today these vehicles primarily serve as official state cars by the Danish, British, and the Swedish royal houses.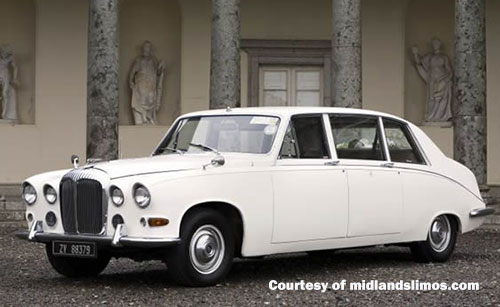 9) Cadillac XTS limousine-$48,635
Cadillac has always been a popular choice for those seeking luxury American cars. It's no wonder the Cadillac XTS limousine has also made the cut in being one of the most lavish forms of transportation in the world. With a 410 hp, 3.6- liter V6 engine and a six-speed automatic transmission this vehicle is a turbocharged version of the XTS sedan. The special luxury additions in this car include a rear center console, suede headliner, illuminated door handles and on board navigation. The front engine layout and all-wheel drive make for a smooth ride while the interior features make for a great experience.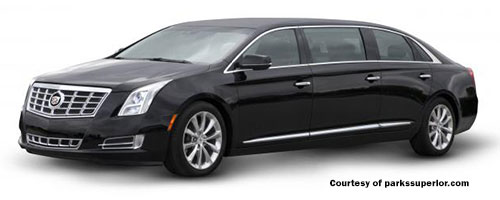 8) Porsche Cayenne Limousine- $75,000
This elongated version of Porsche's Cayenne SUV includes all the sophistication and class of its counterpart, but with way more gadgets. Powered by an eight-cylinder engine, the Porsche Cayenne SUV limousine's most popular features include a roomy interior with plenty of leg room, an on board sound system, and three flat screen television sets. This automobile is also equipped with a CD and DVD player and comes with an on board bar. The Porsche Cayenne SUV limousine also comes with touch screen entertainment controls and fiber optic lights, illuminated floor and ceilings.
7) Bentley Mulsanne-$301.625
Essentially the Bentley Mulsanne is less the expensive option than the Rolls-Royce Phantom. This formal vehicle offers numerous features including privacy curtains in the passenger compartment that are electronically-operated. The best amenities are found within the passenger compartment where there are front headrest-mounted LCD screens, glass bottle coolers, carpeted footrests, and leather bound picnic tables that can accommodate both laptops and iPods. With 752lb and 505bhp of torque this car does not lack in the power front, and it can reach 190 mph, which is pretty impressive.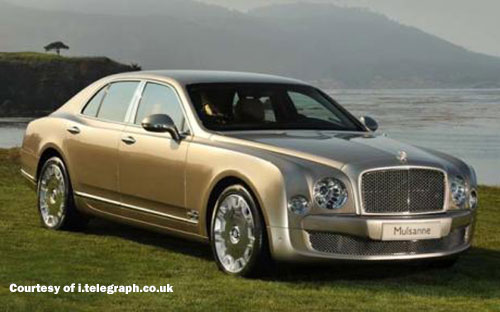 6) Rolls-Royce Phantom EWB -$470,295
Luxury and Rolls-Royce have been synonymous with one another for years. The Rolls-Royce Phantom EWB (extended wheelbase) is the first to come out after the brand was taken over by BMW continuing the legendary line. Powered by a 6.8 liter V12 engine, the Rolls-Royce Phantom EWB can push out 432 horsepower. Built to protect the passengers the Phantom's exterior is bullet proof. The interior features a full sized office, hand-polished wood, soft leather, and lamb wool carpeting. This vehicle remains at the top of its game as it is always a popular choice for formal events and weddings.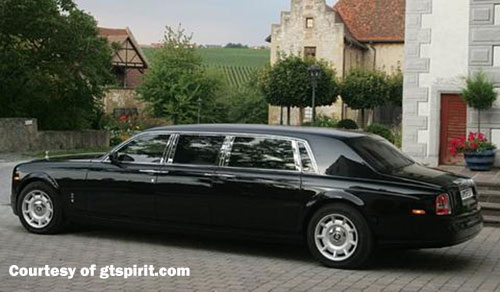 5) The Million Euro Mini-$ 1.35 Million
The most luxurious Mini Cooper on earth is known as The Million Euro Mini. This pink vehicle was designed by Metal Hammers own Juhan Losop, who is renowned for producing unusual vehicles and bikes. The lavish vehicle was built for Princess Regina Abdurazakova of Kazakhstan and her toy terriers Bustya and Barbie. The mini limousine has a Fire Diamond 47′ LCD TV, and Philips Ambilight installed in it. With 30 parking sensors, 20 parking cameras, and 70 TFT monitors the plush interior screams royalty. The exterior is also just as luxurious as its counterpart as it is decorated in over a million Swarovski crystals and the films for the windows have about 50 grams of pure gold in them.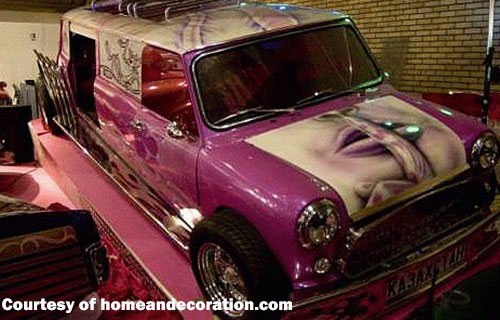 4) The Midnight Rider- $2.5 Million
This automobile has every element needed to get the party started. Designed in 1986 The Midnight Rider is the world's largest limousine for hire. The limousine is made out of a tractor trailer and is 70′ long and 13'8" high. Utilizing stainless-steel H-frame construction with an aluminum belt and 1400 aircraft welds that are nearly sixteen times thicker than conventional big rigs, this nightclub on wheels has a safe and solid frame surrounding the 416 square foot space. The limo can hold about 40 passengers at one time and comes with a full-size bar, bartenders and a DJ. Passengers will enjoy visiting each of the three separate lounge areas and listening to the music blasting out of the 1,800 watt speaker system.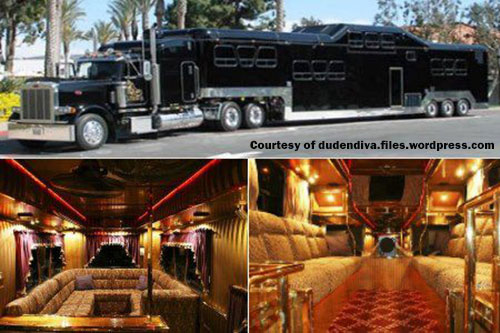 3) The American Dream-$4 Million
When you have a limo with this much space, you can add all the luxurious amenities you want. The American Dream holds a Guinness World Record as it is the longest car ever built. Created by Jay Ohrberg a car collector and builder that specializes in creating unusual cars for television and film. The vehicle is 100 feet in length and has two driver cabins one in the front and one in the rear, 26 wheels, and hinged midsection to turn corners. Other special features include a swimming pool, Jacuzzi, a king sized bed, and a helipad.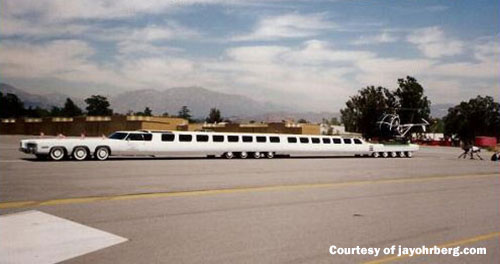 2) Batmobile Limousine-$4.2 million
The alter ego of Bruce Wayne deserves to travel in luxury too. As the most expensive limousine built in the year 2012, the Batmobile limo was inspired by the illustrious Batman movies of the 80s and 90s. The vehicle incorporates all the standard features of the comic book series; this automobile even includes gadgets and tools from the movie as well. With integrated speakers and bat wings over the trunk, many people will forget that they're not a superhero.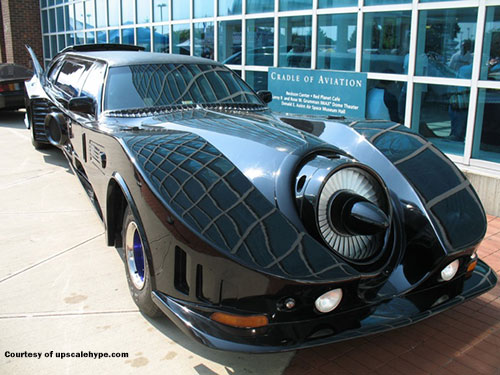 1) The Sultan of Brunei's Rolls Royce Silver Spur Limo- $14 million
Hassanal Bolkiah isn't just The Sultan of Brunei he's also a vehicle enthusiast. While other men will collect sports memorabilia or action figures, the Sultan would much rather prefer to collect cars. In fact, he has over 7,000 of them. His most prized vehicle just happens to be his Rolls Royce Silver Spur Limo. The car emulates the Sultans extravagant tastes as it has been plated in 24 carat gold and features an open back end awning.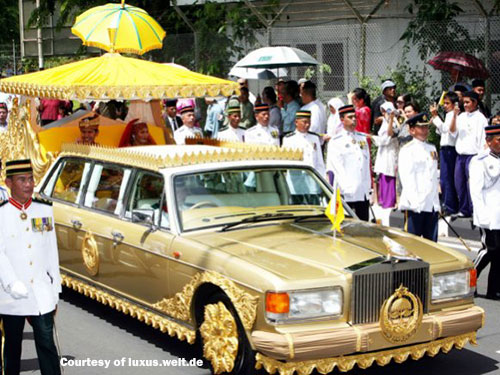 As the pinnacle of luxury cars limousines allow their passengers to experience some the finest features available in an automobile. Whether you want to watch TV, have a drink, dance or swim there is a limo out there that can accommodate your needs. From classic to reinvented models one thing is for sure limousines are one of the only vehicles that will never go out of style instead they will just keep getting even more luxurious.
class='st_linkedin_hcount'> class='st_plusone_hcount'> class='st_fblike_hcount'> class='st_twitter_hcount'>